About the Inn
Small Business Pride

Nestle Inn is a small business that is locally owned and operated by Leesa and Bob Smith. We take pride in being a small business and work hard to earn and keep your business.
All of the staff at Nestle Inn work, live and play locally so the money you spend at Nestle Inn stays local. We understand the importance a local economy plays in all our lives. When we can, we support other small businesses by buying services and the supplies we use in the delivery of our hospitality serivce to you from businesses like ours. We pay taxes here in Indiana. If we can't find a product locally, then we always try to buy USA made items whenever we can.
So when you stay at Nestle Inn, you can be sure that it is helping a friend, a neighbor, a student, a sister or a father right here locally. We hope this makes you feel good about staying at Nestle Inn because we know we feel good about being a business that can support others locally here in Indy and right on Mass Ave.

History Of 637 N East Street

In 1896, Jonathon Stewart, a carpenter and a contractor, and his wife Alice, built this house as a two family home adjoining two houses together so that their families could live close to each other (John and Alice and their son's family). You will notice the two different designs of inlaid wood in the floor of the foyer. This is where the two homes were divided. There was no interconnect between the two houses. To get to the other family, you had to go to their front door. There are two staircases and both are carved differently. All the wood floors and woodwork, stairs, doors and fireplaces are original to the home. The square stained glass piece above the fireplace in the lobby and the stained glass panel in Room 1 are also original to the house.
The Stewarts lived in the home until 1910. The entire house was then rented to a long series of short-term tenants including Carl F. Millican, a machinist and aviator and Grant Keener, a cigar maker. By 1999 the house had been divided into 10 apartments and remained a boarding house until it was purchased in 2000. At that time, it was completely renovated and converted from two structures into one called
Nestle Inn
. From then until 1999, the house was a boarding house with ten apartments, each with a kitchenette.
In 2000 the house was purchased by the previous innkeepers (Barb and Steve Tegarden) renovated and built into a bed and breakfast. (pictures of the renovation are in the library)
In 2011, today's owners, Robert and Leesa Smith, purchased the Inn and have modernized the B&B experience for today's travelers. Leesa has over 30 years of experience in the hospitality, business and nonprofit world. She began her career with Hyatt Hotels Corp here in Indy and then was a manager at the Hyatt Regency Chicago for many years. Here in Indy, she worked at Fairbanks Drug and Alcohol Treatment Center for 16 years as a counselor and then as the Director of Communications and Business Development. Dr. Bob has a private practice as a psychotherapist here in Indy and retired in 2013 after 31 1/2 years as a career firefighter and paramedic with the Indianapolis Fire Dept. as the Lieutenant of Station 12. He also provides mental health services and manages Peer Support Teams for IFD as well as surrounding counties and cities. He also provides counseling services for those individuals outside public safety for generalized depression, anxiety, PTSD and is an EMDR practitioner.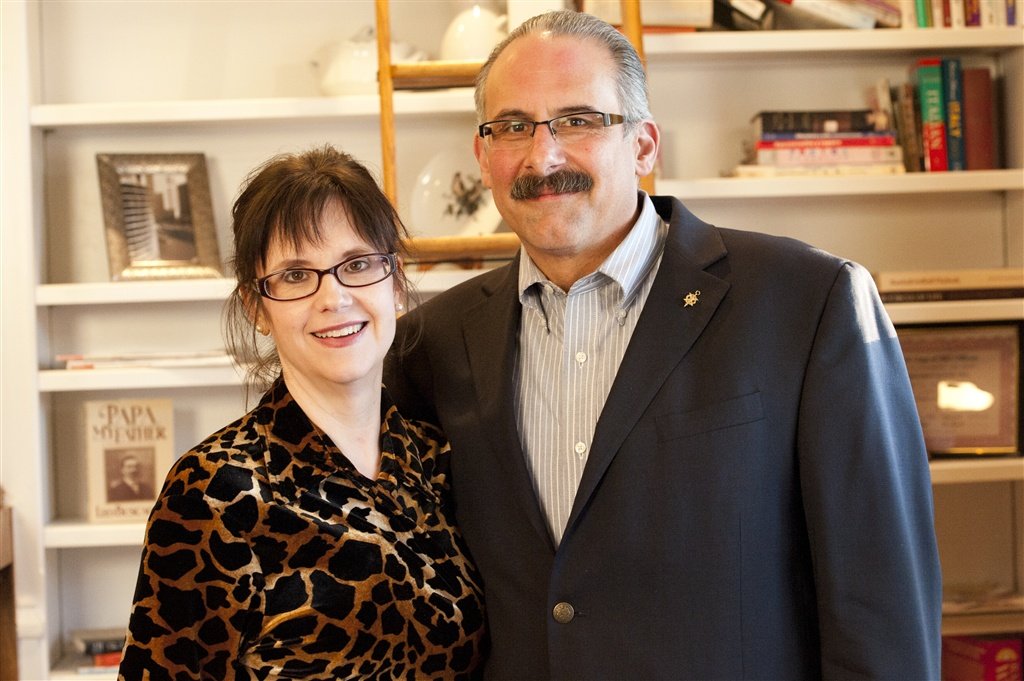 Owners: Robert and Leesa Smith

Meet Our Staff:Innkeeper John Feeney
John was born in Chillicothe, Missouri and grew up on his family's farm with his two brothers and two sisters. John attended CMSU for Business Management and in 1994 made his way to Indianapolis. Once in Indianapolis, John spent the next 19 years working as Concierge/Evening Manager at The Canterbury Hotel until it's doors were closed permanently in December of 2013. John joins our staff as a part time Innkeeper and always greets guests with his warm smile and welcoming nature. John recently won the Rose Award from Visit Indy. This is a highly prestigious award given annually to those people working in hospitality throughout Indianapolis that go 'above and beyond' in the service of guests. Out of 77,000 people, 10 awards are given out. John has always been a star here in Indy and we are so proud to have him here at Nestle Inn.
Check out the video from this year that highlights John here.


Innkeeper: Katie Pittman
Katie is Indy born and raised and loves the city. She graduated from Indiana University with a bachelors degree in Social Work. She is a founding member of the Epsilon Phi chapter of Alpha Sigma Alpha at IU. Katie enjoys travel and has always enjoyed hosting and working with people so being an innkeeper comes naturally to her. She has been in the field of hospitality for 7 years now. She runs an Indianapolis Women's Hiking Club and a book club. She is the Philanthropy Director for Circle City Connect, a young professionals group. You can find her also working at Napolese Pizzeria. While Katie claims that downtown Indy is her passion, what really makes her happy is all things Star Wars!
Housekeeper Jeannie Blackburn
Jeannie is our housekeeper and she is always busy making sure each guest room is clean and prepared especially for guests. Jeannie works hard at her job and wants to make sure each guest has everything they need. Jeannie is also a toilet paper folder extraordinaire! She is the one who leaves the fan, tuck, rose or heart fold for you. She is currently working on an Easter bunny fold. Jeannie has three daughters and enjoys nature trails, visits to the creek and camping.
Chef Lauren Saffel: Cooking Class Chef
Chef Lauren Day grew up in Crawfordsville Indiana and moved to Indianapolis after she graduated high school to study pastry arts at The Chef's Academy. She graduated with high honors from the Chef's Academy and loves sharing her passion for pastries. Chef Lauren has been creating custom cakes since she was 12 years old and has been running a small dessert business for over 8 years. She also worked at one of Indianapolis's most famous family owned bakeries, Taylor's Bakery. Chef Lauren currently works for The Chef's Academy as a high school relations specialist traveling to local Indiana schools, conducting cooking demos, and helping high school students learn more about their interest in pursuing a career in the culinary industry.
Chef Anna Powell : Cooking Class Chef
Anna's great grandmother began teaching her how to cook at the age of 10. She grew up in a community of hunters and fishermen and worked on farms as a child. At 14, she traded her overalls and gardeners gloves for a servers apron and waitressed in a small bistro. At 18, she transitioned to corporate America and quickly progressed into management. In 2009, she arrived in Indiana from Southwest Michigan. After moving downtown, she joined a professional women's group and attended a presentation about living your life's passion. Walking out of that meeting, she decided to pursue her passion: all aspects of food. Since then, Anna has graduated from culinary school, became a Slow Food Indy board member, Second Helpings volunteer and catering program manager at Ivy Tech Community College's Hospitality department. Last year, Anna started a business growing micro greens, baby lettuces and selling her products at four area farmers markets. Curretly, she is majoring in Philanthropy and Non-Profit Management, at Indiana University Lily School of Philanthropy.