Cooking Classes
Cooking classes at Nestle Inn are always informal and fun. Each class will provide you with the skill to prepare what you learn at home. Our Chef instructors are some of Indy's most talented chefs from the Ivy Tech Culinary Program, The Art Institute of Indianapolis and from local restaurants and food venues from around town.
Get a group of your friends together.....grab your best friend, grab your mom or just come solo! Private cooking classes are available as well as team building classes with your co workers.
Minimum class size for a private class is 10.
Be sure to check availability at Nestle Inn for an overnight stay on your class day. Mass Avenue is waiting for you once you finish in the kitchen! Then walk home to Nestle Inn. Single or Double occupancy: Receive $20 off your room rate with the purchase of a cooking class.
Class Details
Class topics are listed below and on the calendar to the right. To register for a class, please click on the dates in orange on the calendar to the right to select a topic which fits your interests. Then click on Register Now to complete your reservation and payment on Eventbrite.com (even if you are using a gift certificate you may register this way).
Your gift certificate should have a code listed on it that you will use as the 'promotional code'. If you are signing up two people, you will need to purchase each ticket separately, using the same code for each ticket. If you have any questions, have difficulty signing up or if you just prefer to sign up by talking with us, please call us at 317 610 5200 or e-mail us at reservations@nestleindy.com.
Classes are held on differing dates. Friday classes are from 3pm -5pm, Saturdays from 3:30pm to 5:30pm and Sunday classes are from 3pm - 5:00pmi n the Nestle Inn kitchen. Classes are open to all and no previous cooking experience is necessary. Classes are $75 per person and include all chef instruction, food and beverages. Some classes are $80 a person (Christmas classes and sushi classes) due to the use of specialty products. We ask that all participants for the class are over the age of 21. Purchase 4 classes and save $20.
2019 Class Schedule
| | | | |
| --- | --- | --- | --- |
| | | | |
| | | | |
| Soups for a Cold Winter Night | | 01/26/19 | 3:30pm-5:30pm |
| Tuscan Olive Oil Tasting (includes a tin of Olive Oil) | | 02/08/19 | 3:00m-5:00pm |
| Be My Valentine: Everything Chocolate | | 02/14/19 | 6:30pm-8:30pm |
| Sweet and Savory Crepes | | 02/16/19 | 3:30pm-5:30pm |
| Couples Cooking | | 02/24/19 | 3:00pm-5:00pm |
| The Food of New Orleans | | 03/09/19 | 3:30pm-5:30pm |
| Pie and More Pie: Handheld and Mason Jar | | 03/23/19 | 3:30pm-5:30pm |
| The 5 mother sauces | | 03/31/19 | 3:00pm-5:00pm |
| Couples Cooking | | 04/06/19 | 3:30pm-5:30pm |
| How to Make Sushi at Home | | 04/12/19 | 3:00pm-5:00pm |
| How to Make Sushi at Home | | 04/27/19 | 3:30pm-5:30pm |
| The Food of Mexico | | 05/04/19 | 3:30pm-5:30pm |
| Thai Food | | 05/11/19 | 3:30pm-5:30pm |
| Homemade Pasta | | 05/19/19 | 3:00pm-5:30pm |
| Couples Cooking | | 06/01/19 | 3:30pm-5:30pm |
| Knife Skills | | 06/08/19 | 3:30pm-5:30pm |
| Vegetarian Cooking | | 06/21/19 | 3:00pm-5:00pm |
| Appetizers and Small Plates | | 06/30/19 | 3:00pm-5:00pm |
| French Pastry | | 07/13/19 | 3:30pm-5:30pm |
| 2019 July - December classes will be posted soon! | | | |
Gift Certificates
You can purchase gift certificates for cooking classes
here
or on our Gift Certificate tab above or you can call us at the Inn at 317-610-5200. We will be happy to e-mail a certificate to you or your recipient or put a certificate in the mail. The person receiving the gift certificate can then choose the topic of their choice.
Please remember that redemption of a gift certificate can only be honored on the date of reservation for a cooking class. Sorry, but we are not able to change reservation dates on gift certificates. Redemption of gift certificates arebasedupon availability at the time of booking and are considered the same as cash.
Meet the Chefs!
Chef Lauren Saffel
Chef Lauren Saffel grew up in Crawfordsville Indiana and moved to Indianapolis after she graduated high school to study pastry arts at The Chef's Academy. She graduated with high honors from the Chef's Academy and loves sharing her passion for pastries with anyone willing to learn. Chef Lauren has been making custom cakes since she was 12 years old and has been running a small dessert business for over 8 years. She also worked at one of Indianapolis's most famous family owned bakeries, Taylor's Bakery. Chef Lauren currently works at The Art Institute of Indianapolis as the High School Representative. She travels around the state of Indiana conducting cooking demonstrations to high school students and talking with them about educational and career opportunities in the culinary industry.


Chef Anna Powell
Anna's great grandmother began teaching her how to cook at the age of 10. She grew up in a community of hunters and fishermen and worked on farms as a child. At 14, she traded her overalls and gardeners gloves for a servers apron and waitressed in a small bistro. At 18, she transitioned to corporate America and quickly progressed into management. In 2009, she arrived in Indiana from Southwest Michigan. After moving downtown, she joined a professional women's group and attended a presentation about living your life's passion. Walking out of that meeting, she decided to pursue her passion: all aspects of food. Since then, Anna has graduated from culinary school, became a Slow Food Indy board member, Second Helpings volunteer and catering program manager at Ivy Tech Community College's Hospitality department. Last year, Anna started a business growing micro greens, baby lettuces and selling her products at four area farmers markets. Currently, she is majoring in Philanthropy and Non-Profit Management, at Indiana University Lily School of Philanthropy.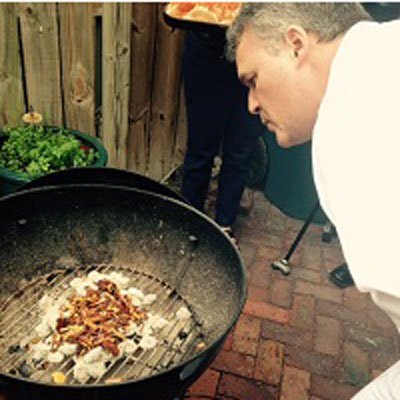 Chef Matthew Mejia
Chef Matthew was raised on the north side of Indianapolis, and received his Associate Degree in Culinary Arts from Joliet Jr. College in 1990, and an Associate Degree in Pastry Arts from The Chef's Academy in 2009. He has over 30 years of culinary experience, and has worked in many cities; Chicago, Madrid, Phoenix, Sydney, and Indianapolis. My expertise is in Mediterranean food, predominantly Spanish, as well as Southwestern, Cajun, and Australian cuisines.

In 2003 his brother and Chef Matthew developed a wine importing business which was in operation for about 3 years. Wine is another passion of his, and he is currently studying for the exam to become a "Certified Sommelier".


Chef Clint Smith
Clint Smith is an honors graduate from the Cooking and Hospitality Institute of Chicago, Le Cordon Bleu. Currently in his fifteenth year of teaching, Clint serves as chef-instructor in the Culinary Arts department at Central Nine Career Center, a career-technical high school in Greenwood, Indiana.

Clint's cooking columns and freelance features have appeared in the Indianapolis Star, the Southside Times, Farm Indiana, and South Magazine. When is isn't cooking or teaching he is busy dedicating his time to creative writing. His fiction collection, Ghouljaw and Other Stories, have been published by Hippocampus Press (New York).